JUGHEADS school year juggling clubs are the core of the company, offering an opportunity for youth to learn unique skills that combine both athleticism and artistry. Clubs encourage individual and group achievement with unlimited potential for growth in dexterity, confidence, and friendships. All JH Clubs and Camps are directed by Paul Arneberg with help from a Student Leadership Team along with coaches & specialists as needed. Since an average club size is 20-25 kids, this helps each Jughead receive more personal attention and instruction. Self direction is encouraged, as is juggling at home to make the most of juggling with many peers and instructors at once once a week!
In addition, JUGHEADS also offers usually about 5 weeks of week-long Summer Juggling Camps (from mid-June when school is out, until the beginning of July). Our camps are open to kids grades 3–12 of all ability levels from beginners through experts. The morning sessions (9 am–Noon) are geared toward beginning/intermediate jugglers, while the afternoon sessions (1 pm–4 pm prioritize advanced/expert jugglers (e.g., more self–directed and working on higher standards, routines, club passing patterns, etc.).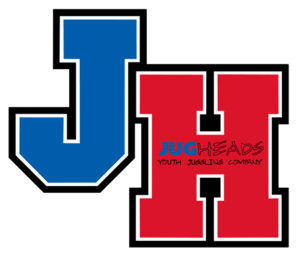 School Year Club Structure
At 3:00 pm, clubs begin casually as kids arrive from various schools and districts. This "snack time" lasts until about 3:45 p.m., during which kids may choose up to three food/drink items while socializing and occasionally watching juggling videos and playing board games. At 3:45 (4 p.m. for Rec. Clubs), Paul gathers the kids for a 10-minute group meeting which includes announcements, sharing of records, skill demonstrations, and brainstorming of routine ideas. After the meeting, kids are fully engaged in general juggling and/or rehearsal time, typically focused on an age and skill-appropriate theme for the day (e.g.,: warm-ups, workshops, endurance contests, etc.). Around 5 or 5:15 pm, a leader often begins an organized (optional) group game such as Ball Combat, 3-Club Trick-off, and 3-Ball Simon Says. Kids continue to juggle until they are picked up between 5:30 pm – 6:00 pm.
This schedule alters in February through May, as the bulk of the time between 4:00pm and 5:45 pm is dedicated to choreographing and rehearsing group routines for our annual juggling show, Juggle Jam.
Semester System: 1st Semester runs roughly September–January; 2nd Semester is February–end of the school year. The assumption is that all 1st Semester Jugheads will return for the 2nd Semester so that they can experience Juggle Jam (our annual spring production). Please inform Paul if your child plans to participate during the 1st Sem. only. Switching/adding clubs mid-year is rare and requires consultation with Paul.
Currently, JUGHEADS offers 5 distinct after school clubs: Recreational Club (Thursday), Intermediate Club (Tuesday), Advanced Club (Monday), Elite Club (Tuesday evenings) and Ultimate Club (Thursday evenings).


Summer Camp Structure
Traditional summer camp structure: After a relaxed arrival of campers, the coaching staff and Student Leadership Team (SLT) kick off every morning with a group meeting at 9:10 am with personal introductions of leaders and new campers, skills demos, goal-setting, and record-sharing. Campers enjoy dedicated, supervised use of two main areas: the gym and lobby (use east/lower entrance) and Resource Room/lower hallway, with optional juggling outside (with a leader). We have mid-camp snack breaks at 10:30 am and 2:30 pm featuring juggling videos and occasionally juggling routine performances. Our camps are "continuous progress"—beginners aren't pressured, and experts aren't restrained. Campers'