As of this writing (1/12/19), Wendy & I are still recovering from three weeks in "Middle-Earth" (aka New Zealand), not the least of which is due to the 19-hour time difference!  Many Jugheads and parents have kindly asked about our trip, so here is a set of paragraphs to share a little bit about our adventure.
Better-planned than any travel agent could do, Wendy masterfully booked hotels, rental cars, tours, outings, and meals to make the most of our 22 days overseas (including time for spontaneity). Here are a few highlights of the geography, our outings, and my reflections on this unique experience: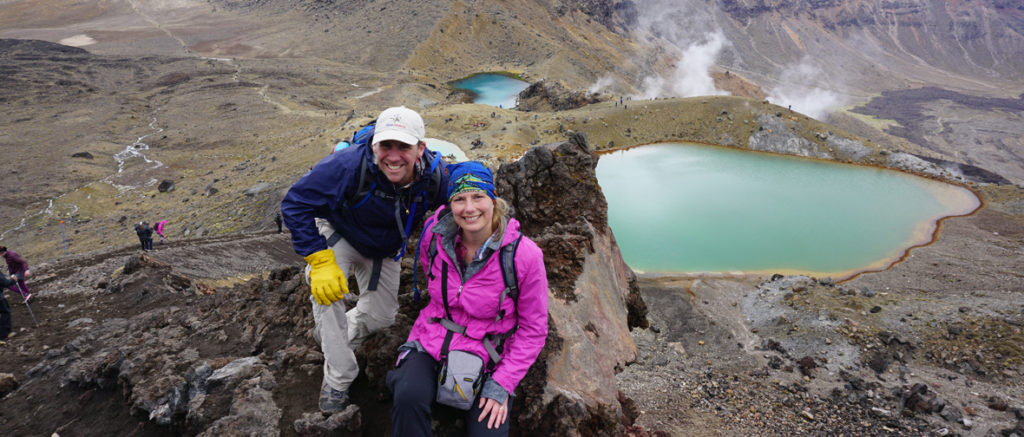 GEOGRAPHY:
En route to Auckland, NZ, we had an eight-hour layover in Rarotonga, Cook Islands, forcing us to adjust to the new time zone by being active though sleep-deprived. A special treat was going to a Maori-speaking church (the language of the indigenous people of both the Cook Islands and New Zealand), with the entire congregation serving as one big choir in their inspiring worship style. We then spent two nights in Auckland, with our full day featuring an eight-mile walk/hike all around the city followed by a 5K race sponsored by an Irish pub on the harbor! Our next seven nights on the North Island featured stays in Matamata, Tongariro, and Wellington, the latter being where we spent Christmas (including visits to two churches, listening to Handel's Messiah, and watching It's a Wonderful Life on our iPad :-).
Our South Island stays included coastal Kaikoura, rustic Staveley, touristy Wanaka, and iconic Queenstown before flying back for one more day in Auckland with our friends and immigrants from Eden Prairie, Jeff & Anne Wogen.
OUTING HIGHLIGHTS:
As I mentioned in my email last month and often in our club meetings, our primary reason for visiting New Zealand was our love of The Lord of the Rings movie trilogy and books. We hiked the 13.52 miles of the Tongoriro Crossing around the volcano which featured location shooting for Mount Doom (see picture above); we visited the Hobbiton Movie Set with 44 Hobbit holes and a feast (see picture below); we saw a movie in the Embassy Theatre, the site of the world premier of LOTR: The Return of the King in 2003 (with many nameplates marking the seats where the stars and filmmakers sat); we climbed Mount Sunday, a highly remote, stand-alone mini-mountain surrounded by mountains which served as the set location for Edoras (King Theoden's Golden Hall); we toured Wetacave of the Weta Workshop, the center of all of LOTR's special effects, armory, prosthetics, make-up, costumes, and the world's largest green screen; and we saw many remote filming locations via official tours by jet boat, 4WD Jeep, Uber, and our own excursions by rental cars (driving on the left side!).
Because there is an usually sudden drop-off near the east coast of the South Island, one amazing attraction in Kaikoura is swimming with wild dusky dolphins in the open ocean. During our tour, clad in our non-slimming wet suits, we jumped out of the back of the boat four different times. The dolphins swam close enough to us to be touched (but we were told to refrain), and they were as playful as any we've seen or heard of in captivity: horizontal and vertical aerial jumps, full somersaults, and at least a dozen at a time swimming right under and ahead of the boat's catamaran, zig-zagging and racing each other and us. We had a rare orca sighting that same excursion, and we saw a sperm whale on a separate excursion the next day. We whitewater rafted down two sets of Class V rapids in water that was fantastically blue, and Wendy fulfilled a bucket list item by swimming in an ice-cold mountain-fed waterfall and pool.
REFLECTIONS:
We enjoyed balancing our time between cities and countryside; between rustic glamping on a deer farm and socializing in a B&B run by a couple in their golden years; and staying active every day yet with time to just "be." I loved running up to 11 miles at time over routes that combined pastures and mountains, and I counted at least a dozen modes of transportation by air, land, sea, river, lake, and gondola. (We also ate about a dozen different kinds of fresh seafood!)
Best of all, this trip was an answer to our prayers for refreshment, safety, the ability to enjoy this wealth of an opportunity (Eccl. 5:19), and a celebration of both marital and aging milestones. We're now "back again," refreshed for another calendar year of life and ministry, the chief calling of which is staying at the helm of JUGHEADS Youth Juggling Co., LLC.
On a final note in that regard, please know that Wendy & I applied several years' worth of saved gifts from our Juggle Jam families to make this trip happen. THANK YOU!!